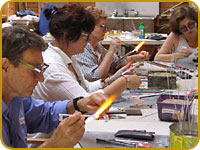 WELCOME TO BEAD GLASS and ART GLASS SUPPLIES! Bead Glass is 100 per cent Australian owned and operated business and has served the lampwork community since 2002. Shop here and SAVE! We are the AUSTRALIAN DISTRIBUTORS FOR CIM GLASS, EFFETRE /MORETTI and DOUBLE HELIX GLASS , LAMPWORK TOOLS, ACE GLASSES, NORTEL & BETHLEHEM TORCHES and OXYGEN CONCENTRATORS.
NO FEE for CREDIT CARDS, PAYPAL, DIRECT DEBIT or PACKAGING and HANDLING. OUR SHIPPING RATES ARE CHEAPER TOO.
Beadglass provides regular classes for both Beginner and Intermediate levels .
See our FACEBOOK PAGE for regular updates https://www.facebook.com/sue.austin.3152
_____________________________________________________________
THE NEW BEADGLASS DIARY, STAY UP TO DATE HERE!
NOVEMBER: For all our followers in NEW ZEALAND , kindly note that we ship daily with no limit on weight, including GLASS, TORCHES, EQUIPMENT, TOOLS and OXYGEN CONCENTRATORS.
Expected 6.11.17 It's here! CIM New stock arrival of -JELLY BEAN and -HARVEST
NEW NORTEL MEGA AND MINOR BURNERS ARRIVED, IN STOCK NOW. SEE LISTED UNDER TORCHES. ALL BETHLEHEM TORCHES BACK IN STOCK.
DOUBLE HELIX, TAKE ADVANTAGE OF OUR NEW SHIPPING COSTS SAVINGS see * DOUBLE HELIX * WE HAVE PASSED OUR SAVINGS ON HERE. SKIRON: The new Double Helix 'rainbow' colour release has been topped up again. See listed under 'Double Helix' in the Online Store.
!!HOW LUCKY CAN WE BE....AUSTRALIA IS THE FIRST TO RECEIVE THE BRILLIANT NEW CIM COLOUR RELEASES ! COMPARE OUR PRICES ! CIM DELIVERY HAS ALREADY BEEN IN STOCK AT BEADGLASS 3 WEEKS BEFORE WORLDWIDE DISTRIBUTION: All the colours are up and listed with colour chips and helpful descriptions.
Lots of Emiko Mandrels, popular sizes 4.76mm, 18mm, and 19mm. Ideal for making large hole discs and beads. See listed under 'Equipment' page.
GAFFER POWDERS : In stock as at 13.9.17 and listed under 'Gaffer Powders'. These 10 new, stunning and vibrant powders present a whole new palette of colour for glass as well as metals, in addition to the Thompson Enamel Powders also available at Beadglass.
#ETCH CRYSTALS at the best prices are here! We have passed the savings on with our reduced shipping prices, both in SMALL and LARGE SIZES ...now listed under' ETCHALL' at side
DON'T WAIT FOR IMPORTS : BETHLEHEM CHAMPION TORCHES ARE HERE NOW IN STOCK ! 14.9.17
.
A NEW PALETTE OF CIM COLOURS RELEASED IN September 2017 The New colours are already listed and corresponding colour chips still being added.
13.8.17 New Effetre Shipment Arrival ....Dark Ivory Stringers added, see 'Stringers' . Also Super Clear now in 5-6mm diameter, under 'Transparents'
Our price list is G.S.T.inclusive In stock now: IMMEDIATE DELIVERY, BRAVO & ALPHA BETHLEHEM TORCHES, here at Beadglass 4.8.17
FOSTER FIRE:All Formulas back in stock 4.8.17 listed under 'Bead Release'

DIP-N-GO BLUE SLUDGE ULTRA now in stock under 'Bead Release'

NEW STYLES NOW AVAILABLE IN BORO AND ACE LAMPWORK GLASSES
NEWS ON SILVER GLASS ADDITIONS: DOUBLE HELIX 'RHEA' PURE GOLD RUBY NOW LISTED!
DOUBLE HELIX 'KETO'
stunning new colour release ...available now....Keto is a blue speckled luster, based on test batches TC663 and 665. A relative of the other speckled lusters, Chloe and Ossa
DOUBLE HELIX ..RHEA RUBY GOLD is a *Striking glass...A Pure gold ruby that stays red and does not react with silver or any other colour..no need to put clear between the silver glasses.. technically a striking glass though it's formulated to strike automatically, see it listed under Double Helix Glasses.
REMINDER:
OUR INTERNATIONAL TUTOR for 2017
HOLLY COOPER WILL BE HERE AT BEADGLASS IN MAY, 2017! _
TWO DAY EXCEPTIONAL CLASSES WILL BE HELD END MAY Dates: There are just a couple of places still available on Monday 29th &Tuesday 30th May 2017 EMAIL for the Coloured Flyer and Enrolment Form info@beadglass.com.au www.hollycooper.com
New Delivery of Multi Size Graphite Moulds.....see listed under Molds
NEW ADDITIONAL CIM COLOURS HAVE ARRIVED! ALL THE COLOUR CHIPS OF THE NEW 2016 CIM GLASS RODS HAVE BEEN DISPLYED ON THE CIM PAGES
Congratulations to KIRRA GALLERY and all the artists at Federation Square in Melbourne! The new exhibition of Lampwork and Glass Object D'Arte is spectacular....not to be missed.
New delivery of Parallel Presses and Diamond Shears( listed in Equipment Pages) See how to use both the press and the snippers-scissors with Elena Hernberg's beautiful glass leaves here :https://www.facebook.com/elena.hernburg.3/videos/1008815082483863/?pnref=story
FREE Tutorial! from Spawn of Flame on SILVERED IVORY STRINGERS very easy to follow, although we use Silver Leaf instead of Foil : http://spawnofflame.wordpress.com/2009/03/31/silvered-ivory-stringer-revealed-a-tutorial-part-1/
· Another site for well designed free JEWELLERY TUTORIALS &VIDEOS see: Our price list ALREADY INCLUDES G.S.T.Nancy Hamilton's Free Tutorials for silversmithing, dozens of unique tips at: http://www.youtube.com/watch?v=yuYAd8zlgaw
Another informative site for silversmithing from Joe and Anat Silvera at: http://silverajewelry.com/videos/
LINING WIDER BEADS KNOW HOW: If you enjoy making wide beads then the essential, Wide Impress Beadliner is an important addition for the creative bead artist . The NEW WIDE IMPRESS Beadliner works just like the original Impress on "normal" size beads, but has the extra advantage of working on MUCH WIDER ITEMS as well, eg silver pendants, huge beads, fused or slumped glass pieces. These are listed under Beadling tools.
***********************************************
OUR PAST INTERNATIONAL TUTORS WHO HAVE TAUGHT FOR US HERE IN AUSTRALIA INCLUDE HOLLY COOPER, ANDREA GUARINO and JIM SMIRCICH.
Holly's site: www.hollycooper. com
Andrea's site: http://www.andreaguarino.com
**********************************************************
Email enquiries are welcome.
Events : Come and see all our beautiful Beads, Lampwork Equipment and Glass Supplies at....
.