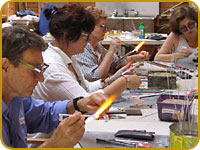 GLASS BEADMAKING WORKSHOPS 2019. If you wish to participate please email to info@beadglass.com.au
NEWS for 2019

Presently Pauline Delaney is Teaching Beginner and Intermediate Level Lampworking in Melbourne. You can contact Pauline at pauline@paulinedelaney.com Phone:03 96879949 or Mobile 0411201266

CALL OR EMAIL US RE OUR GLASS BEADMAKING WORKSHOPS DATES IN JULY Beginners: Saturday 20th and Sunday 21st.July . An Intermediate refresher is available either Friday 19th or Monday 22nd July. Located on the Central Coast 90 minutes from Sydney.
#ENROL HERE ON THE FORM LISTED UNDER 'CLASSES' & Email to info@beadglass.com.au .

LEARN HOW TO MAKE GLASS BEADS.
JOIN IN A CLASS AND REGISTER TODAY!
HAVE FUN AND CREATE BEAUTIFUL GLASS BEADS YOU DESIGN YOURSELF.
FOR THOSE WHO NEED A REFRESHER THEN THE INTERMEDIATE CLASS IS FOR YOU! PAULINE DELANEY WILL ALSO TEACH IN PATONGA ON THE CENTRAL COAST A TWO DAY BEGINNER's WORKSHOP. PAULINE IS AN ACREDITED TEACHER AND SUCCESSFUL GLASS ARTIST WHOSE WORK IS CURRENTLY EXHIBITED IN GALLERIES IN THE U.S. & FEDERATION SQUARE GALLERY, MELBOURNE. HER CLASSES INCLUDE ALL EQUIPMENT AND TEACH THE FUNDAMENTALS OF GLASS BEADMAKING (LAMPWORK).
JUST BRING A NOTE BOOK.
GREAT LUNCH, COFFEE AND TEAS INCLUDED.Fully catered lunch each day is provided. We will stop for a lunch break and take in some inspiration from the beautiful surrounds of the natural environment. Patonga is a unique seaside village surrounded on one side by the beach and a river on the other side. It is located within the spectacular Brisbane Water National Park. Accommodation can be organized for those wanting to stay nearby.


FILL OUT THE ATTACHED FORM OR PHONE SUE AUSTIN NOW ON 02 43 791302 TO REGISTER FOR:

TWO DAY BEGINNER LAMPWORK CLASS.$365 (Group) or
ONE DAY INTERMEDIATE $185 (Group) or $360 (Private)
Beginners : Please email for info.10am-4.30pm
Intermediate: Please email for info. 10am-4.30pm
REFRESHER INTERMEDIATE LAMPWORK CLASS also available on application and will be included with the Friday or Monday Intermediate class.. ALL EQUIPMENT PROVIDED NO CHARGE. BASIC SAMPLE PACKS OF MORETTI GLASS INCLUDED. ANY ADDITIONAL GLASS COLOURS IF REQUIRED WILL BE AVAILABLE FOR PURCHASE.

Email: info @beadglass.com.au

BEGINNERS LAMPWORK CLASS WILL COVER:
THE TECHNIQUES USED IN FORMING A BASIC ROUND BEAD FROM MORETTI COLOURED GLASS RODS.
SURFACE DECORATION.
STRINGER & TWISTIE DECORATION
FLORAL TECHNIQUES
SCULPTING GLASS TO MAKE A GODDESS BEAD
OCCUPATIONAL HEALTH & SAFETY
SET UP OF EQUIPMENT & SUPPLIES
TROUBLESHOOTING COMMON MISTAKES
ALL WORK IS DONE ON MINOR BURNERS
INTERMEDIATE LAMPWORK CLASS WILL COVER:
REVISION OF STRINGER TECHNIQUES AND CONTROL .
USING COLOUR COMBINATIONS, ENAMELS AND REACTIONS IN DESIGN.
FORMING COMPLEX CANE/ DECORATION
OFF MANDREL TECHNIQUES
SCULPTING GLASS
SILVER/GOLD FUMING & HOLLOW BEADS.
TROUBLE SHOOTING QUESTIONS/ANSWER . ALL WORK IS DONE ON MINOR BURNERS
TO ENROL PLEASE COMPLETE THE FOLLOWING & RETURN ASAP TO RESERVE A PLACE

NAME……………………………………....................... Circle Classes for enrolment below :
*BEGINNERS * INTERMEDIATE
ADDRESS…………………………………….
PHONE …………………….
EMAIL………………………
(Please circle payment options: Direct Deposit, Cheque, Credit Card , COD, Cash ). If paying by D.D. details will be emailed to you.
DEPOSIT for all classes 50%, IS REQUIRED TO SECURE A PLACE AND FINAL BALANCE PAYABLE ON THE DAY OF THE WORKSHOP. DEPOSIT MONIES ONLY RETURNED IF WORKSHOP IS CANCELLED.
CREDIT CARD DETAILS NAME……………………………
No.………………………………
Expiry……………………..
Master Card, Visa, Bankcard. Cheques made payable to Beadglass
Class location: Beadglass, 8 Patonga St., Patonga 2256
* * * * * * * * * * * * *
BEADGLASS
Previously: Beadglass is pleased to be hosting international artist, Holly Cooper, www.hollycooper.com in Australia as our special guest tutor in May, 2017. If you would like further details, kindly email for coloured brochure info@beadglass.com.au
SUPPORTER OF AUSTRALIAN LAMPWORK ARTISTS * DESIGNER OF THE YEAR AWARD SPONSOR * SPONSOR of LAMPWORK PRIZE CATEGORY AT THE SYDNEY ROYAL EASTER SHOW
PAST INTERNATIONAL TUTORS FOR BEADGLASS CLASSES HELD THROUGH OUT AUSTRALIA HAVE BEEN: 2010, ANDREA GUARINO and in 2009, JAMES SMIRCICH....and now..HOLLY COOPER APRIL, 2013 and MAY, 2017!

* Please review here for announcements concerning further upcoming International Classes


NEWS!

Beadglass is pleased to be hosting international artist, Holly Cooper, www.hollycooper.com in Australia as our special guest tutor 2017. If you would like further details, kindly email for coloured brochure info@beadglass.com.au

This special invitation, as promised, is now open ... so don't miss out on the first choice for dates and locations. # Please email back early so you don't miss this exciting opportunity.

#Incremental payments during the year will be available as arranged in previous years.


In the past we welcomed Andrea Guarino as our celebrated international tutor. Andrea needs little introduction. She is a respected teacher whose reputation is accredited on an International scale and has a long illustrious and prodigious career in Lampwork and Silverwork to her credit. Her reputation is universal and has taught extensively around the world. She is a leader in her field and a constant innovator of new glass techniques. We were indeed priviledged to have her here in Australia, teaching all our students the art of lampwork under her brilliant guidance. View Andrea's site and blog : www.andreaguarino.com

*******************************************
BEADGLASS, 8 PATONGA ST., PATONGA 2256
Contact Sue, Phone 02 43791302