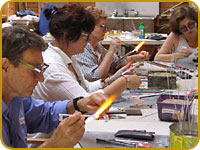 WELCOME TO BEAD GLASS..... LAMPWORK SUPPLIES FOR AUSTRALIA, NEW ZEALAND, ASIA, U.S. and SOUTH AFRICA. Bead Glass is 100 per cent Australian owned and operated and has served the lampwork community since 2002. Shop here and SAVE!
We are the AUSTRALIAN DISTRIBUTORS FOR CIM GLASS, EFFETRE /MORETTI REICHENBACH and DOUBLE HELIX GLASS , LAMPWORK TOOLS, DIDY GLASSES, NORTEL & BETHLEHEM TORCHES, PERLENPRESSE TOOLS, JEN-KEN KILNS and OXYGEN CONCENTRATORS.
NO FEE for CREDIT CARDS, PAYPAL, DIRECT DEBIT or PACKAGING and HANDLING. OUR SHIPPING RATES ARE CHEAPER TOO.
Beadglass provides regular classes for both Beginner and Intermediate levels.
See our FACEBOOK PAGE for regular updates https://www.facebook.com/sue.austin.3152
___________________________________________________
THE NEW BEADGLASS DIARY, STAY UP TO DATE HERE!
AUGUST !:

Another new EFFETRE shipment of EVERY COLOUR on the way to Oz.

NEW DOUBLE HELIX MURRINI HAS ARRIVED in stock see it listed on the Double Helix page. THE NEW BATCH OF AETHER AND HYPERBOREA HAS ALSO ARRIVED Already up and listed!

DOUBLE HELIX 'ORACELS', all ten rods SAMPLE BUNDLES now available

NOW in stock ALL the NEW 2022 CIM COLOURS! Already up and listed!

Special REDUCED Shipping rate on CIM for orders over 6 lb to NEW ZEALAND. All the new colours are summarized at the top of the CIM PAGE for easy reference.

NEW TOOLS JUST ARRIVED TODAY MARCH 21st! SEE LISTED UNDER TOOLS & EQUIPMENT.

JUST ARRIVED! NEW BRASS MASHERS now listed under 'BRASS MASHERS FLORALS ETC'.....

ALSO JUST LANDED ARE ALL THE NEW GRAPHITE SHAPERS IN A HUGE RANGE OF SHAPES FOR SMALL HEADPINS, DROPS, BALLS,EARRING SHAPES AND BEADS. now listed under 'MOLDS SHAPERS MARVERS

NEW Economical Didyimum Glasses now in stock listed under EYEWEAR.

More sizes in Puffy Mandrels have been added including Hollow Vessel Mandrels

NEW COLOUR RELEASE!!THERE WILL BE A FULL RANGE OF THE 2022 CIM COLOURS AVAILABLE HERE AT BEADGLASS ARRIVING FEBRUARY.

NEW ZEALAND: EXPRESS DELIVERY FROM AUSTRALIA ... followers, kindly note that we ship EXPRESS, if requested, with no limit on weight, including GLASS, JEN-KEN KILNS,TORCHES,OXYGEN CONCENTRATORS, EQUIPMENT and TOOLS.

ETCHALL ..in stock in every size. Perfect for etching any glass to create a frosted matt effect. See listed under 'Etchall'

NEW OCTAGONAL GRAPHITE REAMERS JUST LISTED... see listed under 'Lampwork Equipment' in the 'Equipment and Tools' category.

MAKE A VARIETY OF BOTANICAL FLORAL STUD & DROP EARRINGS & CHARMS WITH THE NEW BRASS PIN MASHERS SEE THEM ALL LISTED UNDER : ' BRASS MASHERS'..... AVAILABLE IN FLORALS, LEAVES , SHELLS , DRAGONFLIES, SKULLS, don't forget to also see the 'PERLENPRESSE TONG MASHERS AND TOOLS'

Thrilled to receive another shipment of PERLENPRESSE Beadliners from Germany.' They have their own category and are listed under 'PERLENPRESSE'.

Tonnes of Reichenbach Glass...all the colours are back in stock now...including 4 new colours ..

All the new Effetre Handmade Premium, now up, see listed on the 'Premiums' page.

ORACLE VIOLET OPAL, here now! A stunning striking glass results are a variety of shades from a devine misty opal through to luscious purple violet tones. More RHEA LIGHT! arrived! back in stock, also the new release TERRANOVA 2021 ....this favorite has been remade with ever-more colour possibility!
Graphite Bead Rollers in lots of different shapes: Barrel Shapes, Marble Mold Shapes,Egg Shapes, Donut Shapes and Combination Shapes perfect for earings.... also Wire Holders for making glass beads on Head Pins. See all these are listed under 'Molds, Shapers, Marvers.
15 New Stunning new Frit Colours. See listed under 'Frits'
New back in stock listed under DRILLS & CLEANERS
DIAMOND BEAD REAMER 1.6mm to 4.78mm SHORT and LONGER LENGTH
News! We are pleased to announce we are Australian distributors for JEN KEN KILNS ... Large and smaller... portable and space efficient. See Listed under KILNS.
CIM NEW 2021COLOURS....So thrilled the new colours will arrive end March, including a top up of some old favorites... . The new colours are ...AVALON MISTY AVALON MILKY BEESWAX MILKY BEESWAX MISTY BEWITCHED, BIRDS NEST, BROWN EYED GIRL, BURNT SUGAR, CAREFREE, CARNIVAL, COMING UP ROSES, CUPCAKE, DOLLHOUSE MILKY, DOLLHOUSE MISTY, GOSSAMER, GRAND CANYON , HOREHOUND, JACARANDA, KNIPHOFIA,LAKE BAIKAL, LIMEADE, LINGONBERRY, MARMALADE, ORANGE-ZILLA, PINK PANSY, PORTAL, PROMETHEUS, ROBERT E, SCOTCH BROOM, SEA ANEMONE, SOLAR STORM, STONEWASHED, VAMPIRE, and the final colour is YOURS TRULY.... .a gorgeous transparent mauve.
... As the distributor of CIM in Australia, our prices on CIM can't be beaten and in bundles of 115gm
ETCH WITH CRYSTALS : Back in stock in every size at great prices, See listed under ETCHALL (for this product just add water) See this video for instruction: https://www.youtube.com/watch?v=U7t5yBAyYvc
NEW EYEWEAR! ...BACK IN STOCK ALL STYLES INCLUDING CLIP ON DIDYS!.!
LOOKING FOR PROFESSIONAL MURRINI CUTTERS? IF YOU MAKE YOUR OWN MURRINI YOU NEED THESE! SPECIALIZED CARBIDE TIPPED GLASS CUTTER FOR CUTTING MURRINI, LISTED UNDER 'EQUIPMENT AND TOOLS'
BEADLINER TOOL: We have added 929 Silver tubing for lining beads . Also Copper tubing is listed for lining or to practice lining before using 925 silver tubing. See all listed under Beadliner Tool.
Parallel Presses and Diamond Shears( listed in Equipment Pages) See how to use both the press and the snippers-scissors with Elena Hernberg's beautiful glass leaves here :https://www.facebook.com/elena.hernburg.3/videos/1008815082483863/?pnref=story
THOMPSON ENAMELS 104 Transparents and Pastels. See the Thompsons Enamel Page....colours in the TRANSPARENTS are-
9400 Clear
9410 Wax Yellow
9415 Khaki
9425 Spring Green
9434 Gem Green
9436 Glass Green
9443 Beryl Green
9444 Turquoise
9452 Aqua Blue
9453 Water Blue
9463 Bonnet Blue
9466 Nitic Blue
9475 Amethyst
9480 Cherry Pink
All in stock Stainless Hot Head Hoses,see listed under Torches and Kits, at the bottom of the page.
Special prices on 6mm DELUX STAINLESS WOVEN HOSE for the Hot Head Torch...listed under 'Torches'
____________________________________________________
REICHENBACH 104 : SEE EVERY COLOUR IN THE RANGE.. NOW AVAILABLE HERE IN AUSTRALIA ! bringing down prices on Reichenbach with continuous supplies. We pass the savings on... and YOU save on our reduced freight prices from Germany! The Reichenbach colours can been viewed under 'Reichenbach' in both Transparents and Opaques.
LUSTERS COLOURS, all listed under 'LUMIERE' in the shopping cart.
BETHLEHEM TORCHES : WE ARE DISTRIBUTORS IN AUSTRALIA FOR ALL BETHLEHEM TORCHES AND WE HAVE ADDED TO OUR INVENTORY OF ALL THE LATEST MODELS INCLUDING THE NEW STACKS, THE SHARP FLAME HAND TORCH ,ALPHAS, BRAVOS AND CHAMPIONS.
BORO WORKERS! NEW DIAMOND SHEARS (in Equipment Page
How to Use PUFFY MANDRELS.....A free 'How To', tutorial is also included on the 'MANDRELS PAGE', listed under 'MANDRELS ALL' in the Online Shop....then explore further with the beautiful, intensely coloured THOMPSON ENAMELS range...also included is a free tutorial, listed under 'THOMPSON ENAMELS'.
PUFFY MANDRELS in sizes, 2mm, 2.4mm, 3mm, 4mm, and 5mm. AND HOLLOW MANDRELS in 6mm, 10mm and 12.9mm diameter . ....see listed under "ALL MANDRELS" These are used for Blowning Beads on the end of a Hollow Mandrel. Here are two videos that illustrate the process as well as the equipment needed.. Finger Holders, shown in the video, are also available under 'Equipment and Tools' https://www.youtube.com/watch?v=SgaN1q4enk0
GAFFER POWDERS : listed under 'Gaffer Powders'. These 10 stunning and vibrant powders present a whole new palette of colour for glass as well as metals, in addition to the Thompson Enamel Powders also available at Beadglass.
FREE Tutorial! from Spawn of Flame on SILVERED IVORY STRINGERS very easy to follow, although we use Silver Leaf instead of Foil : http://spawnofflame.wordpress.com/2009/03/31/silvered-ivory-stringer-revealed-a-tutorial-part-1/
Another site for well designed free JEWELLERY TUTORIALS &VIDEOS see: Nancy Hamilton's Free Tutorials for silversmithing, dozens of unique tips at: http://www.youtube.com/watch?v=yuYAd8zlgaw
Another informative site for silversmithing from Joe and Anat Silvera at: http://silverajewelry.com/videos/
LINING WIDER BEADS KNOW HOW: If you enjoy making wide beads then the essential, Wide Impress Beadliner is an important addition for the creative bead artist . The NEW WIDE IMPRESS Beadliner works just like the original Impress on "normal" size beads, but has the extra advantage of working on MUCH WIDER ITEMS as well, eg silver pendants, huge beads, fused or slumped glass pieces. These are listed under Beadling tools.
***********************************************
OUR PAST INTERNATIONAL TUTORS WHO HAVE TAUGHT FOR US HERE IN AUSTRALIA INCLUDE HOLLY COOPER, ANDREA GUARINO and JIM SMIRCICH.
Holly's site: www.hollycooper. com
Andrea's site: http://www.andreaguarino.com
**********************************************************
Email enquiries are welcome.
Events : Come and see all our beautiful Beads, Lampwork Equipment and Glass Supplies at....