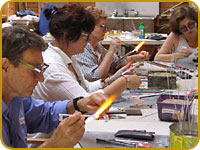 WELCOME TO BEAD GLASS and ART GLASS SUPPLIES! Bead Glass is 100 per cent Australian owned and operated business and has served the lampwork community since 2002. Shop here and SAVE!
We are the AUSTRALIAN DISTRIBUTORS FOR CIM GLASS, EFFETRE /MORETTI and DOUBLE HELIX GLASS , LAMPWORK TOOLS, ACE GLASSES, NORTEL & BETHLEHEM TORCHES and OXYGEN CONCENTRATORS.
NO FEE for CREDIT CARDS,PAYPAL,DIRECT DEBIT or PACKAGING and HANDLING. OUR SHIPPING RATES ARE CHEAPER TOO.
Beadglass provides regular classes for both Beginner and Intermediate levels .
Our price list ALREADY INCLUDES G.S.T.
_____________________________________________________________
JULY: New deliveries of MANDRELS in PANDORA size 4.76mm on special this month $2.95. Other MANDRELS available in hard to get sizes, 3.96mm and 6.35mm, see listed on the 'Equipment' pages. CABACHON Mandrels make an interesting addition to your lampwork skills, try these different shapes out too! There is also a free Tutorial supplied on how to use these on the shopping pages.
THE STUNNING RANGE OF THOMPSON ENAMEL POWDERS have arrived and listed . These will be used in our POWDER PLAY CLASSES with Holly Cooper. So, plenty of time to get in some practice using these vibrant intense colours to extract the most out of your glass! You can see all the individual colours as well as our sample packs, now for sale, listed under 'Thompson Enamels' pages. ......the details/dates of HOLLY COOPER classes are below.
ANNOUNCEMENT ! INTERNATIONAL TUTOR for 2017
HOLLY COOPER WILL BE HERE AT BEADGLASS IN MAY, 2017! _
TWO DAY EXCEPTIONAL CLASSES WILL BE HELD ON-
Dates: Saturday 27nd & Sunday 28nd May and Monday 29th &Tuesday 30th May 2017
EMAIL for the Coloured Flyer and Enrolment Form info@beadglass.com.au www.hollycooper.com
Places are limited, don't miss this exceptional class, kindly email asap to secure your place in the class
______________________________________________________________
DOUBLE HELIX TRITON and bestie gorgeous CHLOE... are back in stock and listed under the DOUBLE HELIX stunning glass list. Don't forget the offer on CHLOE re samples...... A sample can be sent if requested by email , when placing an online order with other Double Helix glasses....minimum of two colours @ info@beadglass.com.au..... offer expires midnight Wednesday 13th JULY
ARRIVED! ...Multi Size graphite Bead Molds...Keeping your beads a consistant size or useful for graduating sizes.....listed under 'Molds'
Here's an informative video from a David Penso demo at Corning Museum of Glass...showing some interesting lampwork techniques including blown beads:
https://www.youtube.com/watch?v=Phb3vjDs1PE
And another from Leah Fairbanks:
https://www.youtube.com/watch?v=3_pQAAQWeyI
We have lost count of all the excitement of glass galore!.. with also arrival of new stocks of all the Avorio colours and Marmos (marble). Listed under 'Premiums'
NEW DOUBLE HELIX RELEASE HERE! THE COLOUR IS
'CHLOE' ...listed under Double Helix
__________________________________________________________________________________________________________
WINNERS:Each month, at Beadglass we have a draw of the previous month's glass orders ...be one of the winners! 250gm of a bundle of mixed glass, transparents and pastels from the beautiful 104 Effetre range.....Mailed out free!. ...The JUNE WINNER is D. Bell !
See new packs of Etchall Creme and Liquid including new bulk packs ...All listed under Etchall
NEW supplies of beautiful PALE EMERALD GREEN T031 ... Listed under Premium Transparents.
FILIGRANA CANES…new colours added 1.3.16
_________________________________
New Effetre Glass Shipment....every colour now restocked and some new colours as well, including the latest 'Avorio' and 'Marmo' Ranges.These new cols. are listed under 'New Premium Colours'.
We are distributors for Bethlehem Torches , listed here on the Beadglass Site . If you want to upgrade your torch this year, then consider the new style Bethlehem Torches.....efficient and low on oxygen, we have everything to get you started!
NEW SHIPMENT OF FOSTER FIRE BEAD RELEASE...see under Bead Release in the online shop.
Double Helix new colour 'MELIA' arrived 8.12.15 !...This is a beautiful iridescent luster glass. Colour photo sample is listed under 'Double Helix Glass' Also, now available is the Sample Trial Pack of all Double Helix Colours...see listed under 'Samples'. We also provide notes with all the Double Helix Colours.
Congratulations to KIRRA GALLERY and all the artists at Federation Square in Melbourne! The new exhibition of Lampwork and Glass Object D'Arte is spectacular....not to be missed.
New delivery of Parallel Presses and Diamond Shears( listed in Equipment Pages) See how to use both the press and the snippers-scissors with Elena Hernberg's beautiful glass leaves here :https://www.facebook.com/elena.hernburg.3/videos/1008815082483863/?pnref=story
FREE Tutorial! from Spawn of Flame on SILVERED IVORY STRINGERS very easy to follow, although we use Silver Leaf instead of Foil : http://spawnofflame.wordpress.com/2009/03/31/silvered-ivory-stringer-revealed-a-tutorial-part-1/
· Another site for well designed free JEWELLERY TUTORIALS &VIDEOS see: Our price list ALREADY INCLUDES G.S.T.Nancy Hamilton's Free Tutorials for silversmithing, dozens of unique tips at: http://www.youtube.com/watch?v=yuYAd8zlgaw
Another informative site for silversmithing from Joe and Anat Silvera at: http://silverajewelry.com/videos/
LINING WIDER BEADS KNOW HOW: If you enjoy making wide beads then the essential, Wide Impress Beadliner is an important addition for the creative bead artist . The NEW WIDE IMPRESS Beadliner works just like the original Impress on "normal" size beads, but has the extra advantage of working on MUCH WIDER ITEMS as well, eg silver pendants, huge beads, fused or slumped glass pieces. These are listed under Beadling tools.
***********************************************
OUR PAST INTERNATIONAL TUTORS WHO HAVE TAUGHT FOR US HERE IN AUSTRALIA INCLUDE HOLLY COOPER, ANDREA GUARINO and JIM SMIRCICH.
Holly's site: www.hollycooper. com
Andrea's site: http://www.andreaguarino.com
**********************************************************
Email enquiries are welcome.
Events : Come and see all our beautiful Beads, Lampwork Equipment and Glass Supplies at....
.