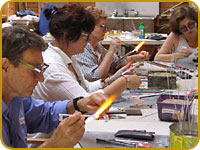 WELCOME TO BEAD GLASS and ART GLASS SUPPLIES! Bead Glass is 100 per cent Australian owned and operated business and has served the lampwork community since 2002. Shop here and SAVE! We are the AUSTRALIAN DISTRIBUTORS FOR CIM GLASS, EFFETRE /MORETTI REICHENBACH and DOUBLE HELIX GLASS , LAMPWORK TOOLS, ACE GLASSES, NORTEL & BETHLEHEM TORCHES and OXYGEN CONCENTRATORS.
NO FEE for CREDIT CARDS, PAYPAL, DIRECT DEBIT or PACKAGING and HANDLING. OUR SHIPPING RATES ARE CHEAPER TOO.
Beadglass provides regular classes for both Beginner and Intermediate levels .
See our FACEBOOK PAGE for regular updates https://www.facebook.com/sue.austin.3152
_____________________________________________________________
THE NEW BEADGLASS DIARY, STAY UP TO DATE HERE!
FEBRUARY 2021 . NEW! KILNS! KILNS! KILNS!...in stock!
Lots happening here this year at Beadglass. We are pleased to announce we are Australian distributors for JEN KEN KILNS ... Large and smaller... portable and space efficient. See Listed under KILNS.
ETCH WITH CRYSTALS : Back in stock in every size at great prices, See listed under ETCHALL (for this product just add water)
NEW IN STOCK BOOKS see listed under Books

TORCHWORKED MARBLES by Drew Fritts...much sort after and rare copy. One only in stock! New! Listing under BOOKS much sort after,The Penland Book of Glass
NEW EYEWEAR! ...BACK IN STOCK ALL STYLES INCLUDING CLIP ON DIDYS!.!
We are pleased to announce we are Australian distributors for JEN KEN KILNS ... Large and smaller... portable and space efficient. See Listed under KILNS.
New delivery of PERLENPRESSE Beadliners from Germany.' They have their own category and are listed under 'PERLENPRESSE'.
FINALLY HERE: IF YOU MAKE YOUR OWN MURRINI YOU NEED THESE! SPECIALIZED CARBIDE TIPPED GLASS CUTTER FOR CUTTING MURRINI, LISTED UNDER 'EQUIPMENT AND TOOLS'
PERLENPRESSE TOOLS are now here! These quality German manufactured tools need little introduction, They are designed specifically for the Lampworker by a lampworker....enough said!....see these treasures as we add them daily ....listed under 'Perlenpresse Tools'
We advise that as an ONLINE SHOP we are OPEN able to ship every day.
DOUBLE HELIX arrival of new colour additions including the rare Oracle colours....and more Super Clear Zephyr in 3mm, 5mm and 8mm diameters.
BEADLINER TOOL: We have added 929 Silver tubing for lining beads . Also Copper tubing is listed for lining or to practice lining before using 925 silver tubing. See all listed under Beadliner Tool.
EFFETRE SHIPMENT: New colour now available is P259M Sabbia (Sand), See listed under Premium Effetre.
All diameters in Super Clear back in stock ,also now available with 7-8mm diameters
Re:Enamel Wire Raku page.....New sizes now available in frits and pieces sizes, Iris Orange Raku and Iris Gold.
CIM NEW 2020 COLOURS....So thrilled the new colours have arrived, including top up of some favorites... and are now listed. The new colours are listed with annotation ** Here they are.....FIREDRAGON GOLDFISH HEATHER LONDON FOG CANDLELIGHT WATERMELON GODDESS PARADISE SEA GLASS LADY OF THE LAKE CIRCUS TENT CHOCOLATE SUMMER HAZE WITCHES BREW LOVEBIRDS BLUEBERRY MUFFIN MONTEZUMA NYMPH PERSIAN GREEN COTTON ADRIATIC AVONLEA RA PACHAMAMA LUNAR ONYX ICE MINT TOOTHPASTE ANDREW BALLERINA PEONY PEACOCK FEATHER PINK DOGWOOD PINK LEMONADE MORGAN VINTAGE ROSE ROSALINE PINK GLOW IN THE DARK NURSERY PINK .
NEW delivery unpacked 31.3.2020: Bethlehem Torches all in stock.
NEW ZEALAND : EXPRESS DELIVERY FROM AUSTRALIA ... followers, kindly note that we ship EXPRESS, if requested, with no limit on weight, including GLASS, TORCHES, EQUIPMENT and TOOLS.
New Pallette load of Oxygen Concentrators, both 10L and 8L. Save on bottled oxygen , free oxygen for your glass lampwork
NEW CIM COLOURS DUE SOON!
EFFETRE:...Metallic Black T065....see listed under PREMIUMS. In a reduction. flame it creates a metallic rainbow luster, also when use as shards, results in interesting rainbow laquerd effects .
THOMPSON ENAMELS 104 Transparents and Pastels. See the Thompsons Enamel Page....colours in the TRANSPARENTS are-
9400 Clear
9410 Wax Yellow
9415 Khaki
9425 Spring Green
9434 Gem Green
9436 Glass Green
9443 Beryl Green
9444 Turquoise
9452 Aqua Blue
9453 Water Blue
9463 Bonnet Blue
9466 Nitic Blue
9475 Amethyst
9480 Cherry Pink
- Great prices on ETCHING CRYSTALS! $12.85 / 4oz bottle and $38.45 / 16oz bottle. See this video for instruction: https://www.youtube.com/watch?v=U7t5yBAyYvc
All in stock Stainless Hot Head Hoses, listed under Torches and Kits, at the bottom of the page.
Special prices on
6mm DELUX STAINLESS WOVEN HOSE for the Hot Head Torch...listed under 'Torches'
____________________________________________________
CIM LAMPWORK GLASS Browse our huge 2019 range of the CIM GLASS color palette . The stars of the show are ......Baked Alaska.. Lemonade.. Egg White.. Weeping Willow.. Aiko.. Bayou.. Eden.. Wheatgrass..Mantis..Eclectus Parrot .. Ectoplasm .. Budgerigar .. continues..... Anole ..Elixir..Elixir Sparkle . Peppermint Cream.. Troi Ltd Run ..Cerulean.. Cerulean Sparkle ..Little Boy Blue ..Wisteria .. Amethyst.. Your Majesty..Tahitian Pearl.. Porpoise..2019... As the distributor of CIM in Australia, our prices on CIM can't be beaten and in bundles of 115gm / ¼ lb !
We always aim to carry the latest and best Lampwork Products and Glass available to the Australian and New Zealand Lampwork Community, and to that end have increased our products three fold in the last year, and as always, interested to hear your requests and comments.
REICHENBACH 104 : SEE EVERY COLOUR IN THE RANGE.. NOW AVAILABLE HERE IN AUSTRALIA !

bringing down prices on Reichenbach with continuous supplies. We pass the savings on... and YOU save on our reduced freight prices from Germany! The Reichenbach colours can been viewed under 'Reichenbach' in both Transparents and Opaques.

NEWCOMPETITION :

SEE THE LUMERE LUSTERS COLOURS, all listed under 'LUMIERE' in the shopping cart. WE HAVE ADDED IN SOME GORGEOUS NEW COLOURS , AS WELL AS A TOP UP OF ALL THE OLD FAVOURITES. NOW 28 BEAUTIFUL COLOURS IN TOTAL!

BETHLEHEM TORCHES : WE ARE DISTRIBUTORS IN AUSTRALIA FOR ALL BETHLEHEM TORCHES AND WE HAVE ADDED TO OUR INVENTORY OF ALL THE LATEST MODELS INCLUDING THE NEW STACKS, THE SHARP FLAME HAND TORCH ,ALPHAS, BRAVOS AND CHAMPIONS.

SEE THE UPDATES ON HOTHEAD TORCH KITS, FOR MORE CHOICES. LISTED UNDER TORCHES AND TORCH KITS. ALL IN STOCK

BORO WORKERS! NEW DIAMOND SHEARS (in Equipment Page

Ribbon Mandrels in sizes :8mm x 2mm,12 x 2mm ,16mm x 2mm...see descriptions under 'MANRELS ALL' ON SALE.

How to Use PUFFY MANDRELS.....A free 'How To', tutorial is also included on the 'MANDRELS PAGE' , listed under 'MANDRELS ALL' in the Online Shop....then explore further with the beautiful, intensely coloured THOMPSON ENAMELS range...also included is a free tutorial, listed under 'THOMPSON ENAMELS'.

PUFFY MANDRELS in sizes, 2mm, 2.4mm, 3mm, 4mm, and 5mm. AND HOLLOW MANDRELS in 6mm, 10mm and 12.9mm diameter . ....see listed under "ALL MANDRELS" These are used for Blowning Beads on the end of a Hollow Mandrel. Here are two videos that illustrate the process as well as the equipment needed.. Finger Holders, shown in the video, are also available under 'Equipment and Tools' https://www.youtube.com/watch?v=SgaN1q4enk0

Lots of Emiko Mandrels, popular sizes 4.76mm, 18mm, and 19mm. Ideal for making large hole discs and beads. See listed under 'Equipment' page.

GAFFER POWDERS : listed under 'Gaffer Powders'. These 10 stunning and vibrant powders present a whole new palette of colour for glass as well as metals, in addition to the Thompson Enamel Powders also available at Beadglass.

#ETCH CRYSTALS at the best prices are here! We have passed the savings on with our reduced shipping prices, both in SMALL and LARGE SIZES ...now listed under' ETCHALL' at side

Parallel Presses and Diamond Shears( listed in Equipment Pages) See how to use both the press and the snippers-scissors with Elena Hernberg's beautiful glass leaves here :https://www.facebook.com/elena.hernburg.3/videos/1008815082483863/?pnref=story

FREE Tutorial! from Spawn of Flame on SILVERED IVORY STRINGERS very easy to follow, although we use Silver Leaf instead of Foil : http://spawnofflame.wordpress.com/2009/03/31/silvered-ivory-stringer-revealed-a-tutorial-part-1/

· Another site for well designed free JEWELLERY TUTORIALS &VIDEOS see: Our price list ALREADY INCLUDES G.S.T.Nancy Hamilton's Free Tutorials for silversmithing, dozens of unique tips at: http://www.youtube.com/watch?v=yuYAd8zlgaw

Another informative site for silversmithing from Joe and Anat Silvera at: http://silverajewelry.com/videos/

LINING WIDER BEADS KNOW HOW: If you enjoy making wide beads then the essential, Wide Impress Beadliner is an important addition for the creative bead artist . The NEW WIDE IMPRESS Beadliner works just like the original Impress on "normal" size beads, but has the extra advantage of working on MUCH WIDER ITEMS as well, eg silver pendants, huge beads, fused or slumped glass pieces. These are listed under Beadling tools.

***********************************************

OUR PAST INTERNATIONAL TUTORS WHO HAVE TAUGHT FOR US HERE IN AUSTRALIA INCLUDE HOLLY COOPER, ANDREA GUARINO and JIM SMIRCICH.

Holly's site: www.hollycooper. com

Andrea's site: http://www.andreaguarino.com

**********************************************************

Email enquiries are welcome.

Events : Come and see all our beautiful Beads, Lampwork Equipment and Glass Supplies at....

.